Today's Markets
UPDATED: 1/12/2012
All opinions expressed herein belong solely to Sunny Harris. Anything I say is meant to be educational in nature. Please do not construe any of my comments to be trading advice, or offers to buy or to sell. There are no guarantees that you will make money or that you will not lose money.
To view detailed commentary, along with Attractors, Fibonacci Retracements, and Pennants, go to the Sunny Side of the Street Daily or Monthly (subscription only) newsletter.
HEADLINES:
VantagePoint EMini S&P Prediction for Tomorrow (click here)
Daily & Weekly Dow (see article)
Has the Housing Market Turned Up, at Long Last? (see article)
A Million Dollars Profit on the eMini (see article)
Inflationary Depression is in the works (see comment)
TODAY'S MARKET ACTIVITY:
| | | |
| --- | --- | --- |
| | | |
| Dow 30 Industrials | S&P 500 | QQQ |
If you want full explanations and commentary about today's markets, consider subscribing to the Sunny Side of the Street.
It's only $179.95/mo for the Daily version, and just $79.00/mo for the Monthly version. View Archives here.
In my humble opinion, what we are currently experiencing in the economy is an INFLATIONARY DEPRESSION. Read on...
For the last 13 years the Dow has done nothing but wiggle back and forth between 7000 and 13000. It is still doing more of same.
My best guess is that as soon as we see 13,000 breached again, the markets will take another nosedive and head back down toward the 7,000 - 8,000 range.
It may take time, even a few years, but the sub-prime mortgage bubble is not over yet. There are still more "fake-outs" yet to come.
Major Attractors on the Dow Jones
Note the turning points, and how the current price level seems to be supported by the Attractor at 12,000. My studies say that the Dow should turn back around between 12,000 and 11,500 and head back up towards the 13,000 level.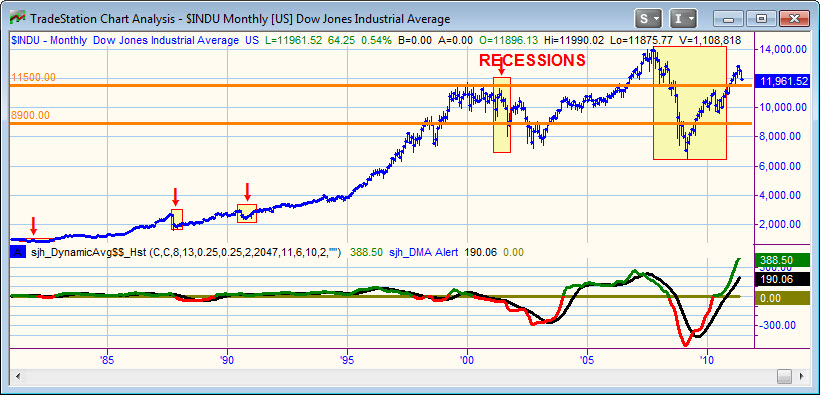 Weekly Dow
After a valliant effort, and a push toward the 14,000 level, I think the Dow has taken a pause. The major Attractor on the daily chart is back down at 11241, and that is probably where the market is currently headed. This march upward happened in only two waves, so I don't think it is yet over. It looks like the Dow will continue the move on up to 14,000, but only after a brief retracement. What is brief? Well, since the 2-wave correction happened in a nice a-b-c move down, the 4-wave will probably be mushy, and generate another pennant.
Daily Dow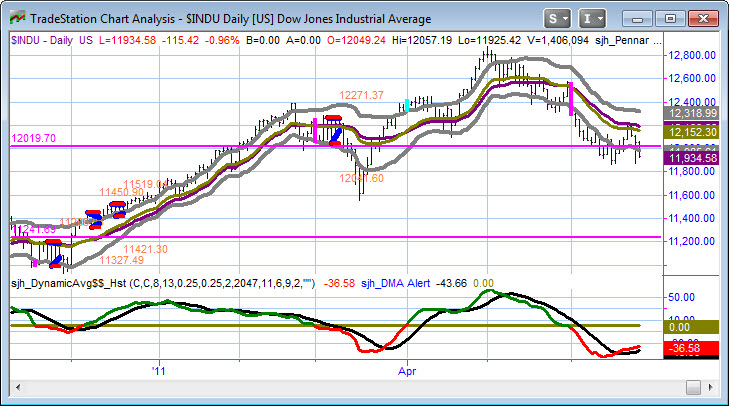 Looking at the daily chart gives us a closer-up view of the same data. In this chart the Dynamic Moving Average crossed over on the Magenta colored bar 17 bars back. That was the point at which the DMA said to go short, if you were simply following the DMA crossover. If you had been following the SunnyBands trading methodologies, you would have gone short on 5/12/2011 from 12,600, a much better entry.
Now the DMA is in short configuration and price has hit the Attractor at 12,019.70. I expect a bounce from there back up to 12,400, which was the confluence of previous highs, followed by another retracement back downward to the bottom of the previous low at 11,581. It is about at that point that the weekly chart takes over and the drive back up toward 14,000 resumes.
Has the Housing Market Turned Up, at Long Last?
The DMA has just turned upwards and crossed over on the housing market.
Take a peek at this monthly chart of the Home Prices index by Standard & Poors (updated 20110626). It's actually pretty incredible for homeowners, who have been sitting through the worst housing/mortgage crisis in recent US History. Prices have dropped more than 80% since 2005! That has been horrifying for us little guys.
But, at long last, the turn has happened. How do I know?
Because I trust my Dynamic Moving Average for everything! My DMA doesn't turn for insignificant moves, only for true changes in direction. And the directional shift has now taken place. Notice that the gold line is now, slightly but appreciably, above the purple line.
Because of my familiarity with Attractors and Support & Resistance, I believe this index will (over the next few months) retrace back down to about 1500, and then a new bull market will ensue.
Now, don't get all excited and expect the price of your house to bounce back to 2005 levels right away. It won't. But what it will do is slowly build up to the 2500 level, retrace again at that level for a while, and then continue to fuild until it gets up to about 3500. That's good news for homeowners, and not so good news for new buyers.
In short, NOW is the time to buy a house at these depressed levels. You may not see it again for a while.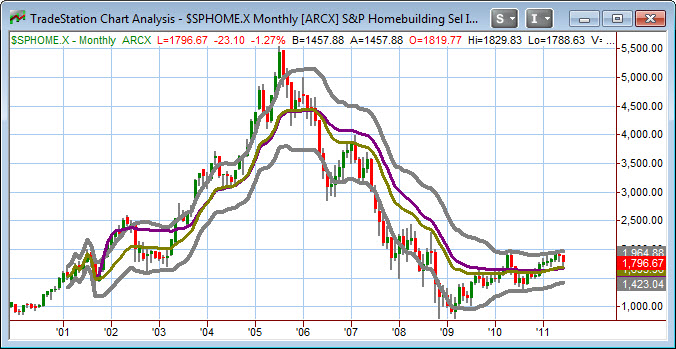 A Million Dollars Profit on the eMini
Well, it's not quite a million, but it's close. Scroll back and forth. This one is worth seeing. $721,875 in ten years, with an open trade of $103,750, bringing the total to $825,625 with an average trade of just over $9,000. That's pretty good market timing, if you ask me.
I love my Dynamic Moving Average. It only turns when the turn is significant. Choppy, minor moves do not generally move the DMA. Nevertheless, look at the profit on this baby.

And, if you limit the trade to only when the DMA crosses by a certain amount, then the whipsaw near the middle of the chart disappears.
So, what's it saying now? SHORT! The market has an interim stopping place at 1250, where it will bounce around a bit. But then, it will drop on down to 1200 before it stops. That's where the Attractor is.
Put this together with the comments above about housing and you'll see why I say "inflationary depression." Housing prices heading back up with the equities markets heading down.
You who live this economy every day know as well as I do that jobs are tight, money is tight, it's difficult to just survive, and yet prices are getting more expensive.
Want to talk about it? Meet me at the blog to exchange comments.
How About the Price of Oil?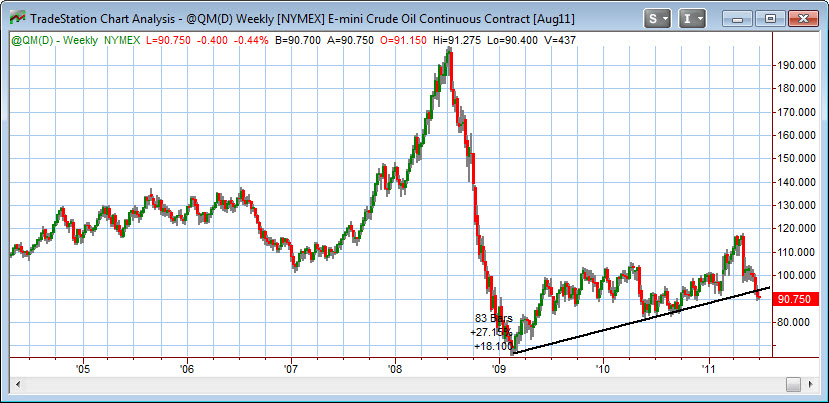 Does this chart (above) look to you like gas should be so expensive at the pump? Or does this look to you, like it looks to me, that the price of a barrel of oil is lower than it has been and therefore gas at the pump is being inflated? I think it's the latter. They're squeezing us. It will come to fisticuffs if we are not careful, in some part of the world.
Keep in touch folks. I like it when you call to chat.